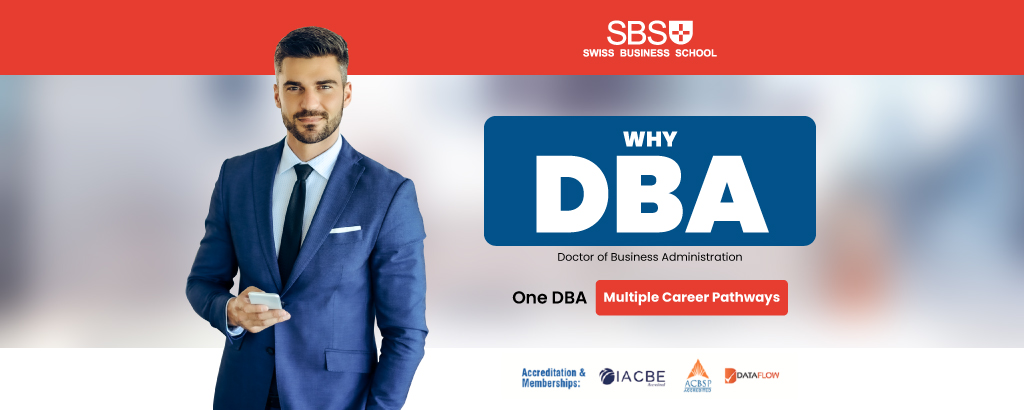 A Doctorate of Business Administration (DBA) is a highly advanced degree program that is designed to provide students with the knowledge and skills needed to excel in leadership positions in the business world.
The benefits of completing a DBA program include:
Advanced knowledge and skills: DBA students gain a deep understanding of advanced business concepts and practices, which can help them excel in leadership positions within their organizations.
Increased earning potential: Those with a DBA degree may be able to command higher salaries and hold more senior positions than those with only a traditional MBA degree
Career advancement opportunities: Completing a DBA program can open up new opportunities for career advancement and can lead to higher-level management or executive roles.
Increased credibility and prestige: Holding a DBA degree can increase one's credibility and prestige within the business community and can help individuals stand out in the job market.
Networking opportunities: DBA programs often provide students with the opportunity to network with other business professionals, which can be beneficial for building professional connections and for finding new job opportunities.
Research Skills: DBA requires a dissertation, which brings out research skills that can be used in workplaces and academia in the future.
Improved decision-making skills: DBA programs often focus on developing research and analytical skills, which can help graduates make better decisions in their professional roles.
Personal growth: The rigorous research and coursework required for a DBA can be a challenging and rewarding experience that leads to personal and professional growth.
Career Paths after DBA
After completing a Doctorate of Business Administration (DBA), individuals may pursue a variety of career paths, including:
Academic positions: DBA graduates may be qualified for teaching and research positions at universities and colleges, where they can share their knowledge and expertise with students and conduct research on business-related topics.
Consulting: DBA graduates may work as management consultants, providing strategic advice to organizations in various industries.
Senior leadership roles: DBA graduates may be qualified for top-level management positions, such as chief executive officers (CEOs) or chief financial officers (CFOs) in various organizations.
Entrepreneurship: DBA graduates may use their business knowledge and skills to start their own businesses and create new products and services.
Non-profit and government roles: DBA graduates may work in non-profit organizations or government agencies, where they can use their business skills to help improve the lives of others.
Research: DBA graduates may work as researchers in various organizations and conduct studies on various business-related topics.
Difference between a DBA and a PhD
A DBA (Doctor of Business Administration) and a Ph.D. (Doctor of Philosophy) are both advanced degrees that require a significant investment of time and effort to complete. However, they have some key differences.
A Ph.D., or Doctor of Philosophy, is a higher degree earned through research and coursework. It is typically focused on academic or theoretical research and is aimed at developing a deep understanding of a specific field or discipline. The goal of a Ph.D. is to make a significant contribution to knowledge through original research and scholarship.
On the other hand, a DBA, or Doctor of Business Administration, is a professional doctorate that focuses on the application of research and theory in the business world. It is aimed at developing leaders and managers who can use research and evidence-based approaches to improve the performance of organizations. The goal of a DBA is to make a practical contribution to the field of business through applied research and real-world solutions.
Field of study: A DBA is primarily focused on business-related subjects such as management, finance, and economics. A Ph.D. on the other hand can be earned in a wide range of fields including science, engineering, humanities, and social sciences.
Curriculum: DBA programs usually include coursework, research, and a dissertation. However, the curriculum may also include practical, hands-on experience, such as internships or consulting projects. A Ph.D. program, on the other hand, is typically focused more on research and requires a dissertation that makes a significant contribution to the field of study.
Career opportunities: Graduates with a DBA are typically employed in senior management positions within a business or organization. A Ph.D., on the other hand, is typically required for academic or research positions, or for roles in which deep expertise in a specific field is needed.
Time to completion: DBA programs typically take between 3-5 years to complete, while Ph.D. programs may take 5-7 years or longer.
A DBA is more focused on business-related subjects and is designed for working professionals who want to advance in their careers. A Ph.D. is more research-oriented and is designed for those who want to pursue academic or research-based careers.
Overall, the main difference between a Ph.D. and a DBA is the focus and goal. A Ph.D. is more academic and theoretical, while a DBA is more practical and applied.
Aspiring to become a DBA!
Join the Swiss Business School DBA Program.
The Swiss Business School DBA Program with its unique outcome-based learning approach, rigorous curriculum, flexible program schedule, innovative pedagogy, and expert faculty community with strong academic and industry experience helps aspiring DBA professionals gain not only an advanced and prestigious degree but also the necessary competencies and skills to succeed as a senior management professional.
Call Now: +971 556490500